This course prepares the learners for all 8 papers of the CA Intermediate Examinations conducted by the ICAI. The course has been designed based on ICAI syllabus as per link below:
https://www.icai.org/post/intermediate-course
Topics have been covered in modules, in an order that is different from ICAI Study Material to enhance the understanding of basic concepts before the students are exposed to more advanced concepts.
The Modules contain e-learning lectures with conceptual explanations & over 700 questions and their respective solutions selected from the ICAI study material, Past exam papers & Revision Test Papers of the ICAI. Detailed notes and 3550+ MCQS are also provided on APP / Website to help the students improve their understanding & examination preparation.
Students will also get free "Tally with GST" course on purchase of this Course.
Loading Content...
This course is taught by 9 expert faculties.
Sathya is a teacher who has taught over 20,000 CA students across India over last 8 years. His unique pedagogy of mixing fun & real life practical examples has made him amongst the most sought after and respected faculty across India. Sathya is CA & is as passionate about Farming as he is about Education.
Read More...
Suraj is an All India Topper in CA across all three levels, with ranks 1, 4 & 2 respectively. He is also a CIMA (UK) qualified. He has worked with BPCL in their Audit Function & also with Trafigura in their Corporate Finance function. He trains CPA (US), CMA (US) & CIMA (UK) students. He is also associated with the Institute of Chartered Accountants of India in creating content and case studies for new course of CA Final.
Read More...
A Chartered Accountant by Profession & a teacher by passion, Varun is a 4th Generation CA in his family; He believes that a strong foundation in taxation is necessary to become a well rounded Finance & Accounting professional. Utilizing his experience of teaching taxation to over 15,000 students in the last 7 years, and by making full use of the modern pedagogy at IndigoLearn, Varun is keen to make taxation interesting and a lot more fun. Varun is also an entrepreneur with interests in Dairy Farming and Garment Manufacturing.
Read More...
Pranay is a practicing Chartered Accountant with over 8 years of experience. He has completed his DISA, is a Certified Forensic Accounting and fraud Detection professional and has recently completed a certificate course on concurrent audit of banks. He is passionate about teaching and has taught thousands of students over the past 5 years in addition to conducting training seminars for corporates. In his free time he loves reading books on business strategies and playing video games.
Read More...
Shiva Teja is a renowned Taxation Faculty. He is a practicing CA and a regular faculty at ICAI. He has taught over 8,000 students across India in last 10 years.
Read More...
Yogita is a CA & a CS having All India Ranks in CS executive & Professional exams. She is passionate about teaching with over 4 years of experience. She believes in bringing simplicity to the subject by relating it with real life.
Read More...
CA Anwesh Shetty is a Chartered Accountant by Profession and Techie by passion. He has 8 years of experience in the field of teaching Tax, Account and Information Technology.
Read More...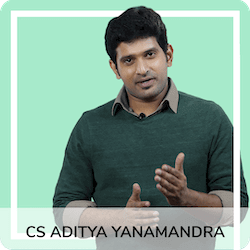 Aditya is a qualified Company Secretary and has graduated from Osmania University, Hyderabad. He interned with J Sagar & Associates Mumbai. Aditya has taught hundreds of students of CA and CS in last 5 years. He believes in a logical & concept-based approach to learning. Aditya is also a renowned actor in the Telugu movie industry and a budding poet.
Read More...
Roshini is a qualified Chartered Accountant and has graduated from Osmania University, Hyderabad. She Interned at Deloitte Haskins & Sells. She currently works with the M&A team in PwC. Roshini strongly believes that students should learn Why before they learn How. She is extremely passionate about teaching and is always on lookout for ways and means to make learning a more fun and exciting experience.
Read More...