Accounting can sometimes go very wrong, either through willful intent or failure to understand proper procedure and protocol. Some of the biggest accounting and financial frauds in history have been caused by failure to adhere to basic principles. According to the International Monetary Fund (IMF), the world wastes up to $2 trillion in corruption. That is a significant number: two percent of the world's GDP. Measures to tackle corruption and curb the growing menace of black money has dominated the national discourse over the past years.
Various policies and legislations, including the implementation of Goods and Services Tax and the demonetisation of high-value currencies were some of the steps taken by the Central government in a bid to make India corruption-free.
Here are 7 of the biggest accounting and financial scams which shook the world.
The Satyam Computers Scam
When did this happen: 2006-2008
Who were the people involved:
B Rama Raju (Chairman, Satyam)
Vadlamani Srinivas (Chief Financial Officer)
Subramani Gopalakrishnan and T Srinivas (PWC Auditors, CFA)
Background:
The scam broke in 2009 when founder-chairman of Satyam Computers Ramalinga Raju confessed that the company's accounts were tampered with. He disclosed a Rs.7,000-crore accounting fraud in the balance sheets. On January 7, 2009, Ramalinga Raju sent off an email to Sebi and stock exchanges, wherein he admitted and confessed to inflating the cash and bank balances of the company.
What happened:
Raju also manipulated the books by non-inclusion of certain receipts and payments, resulting in an overall misstatement to the tune of Rs 12,318 crore, shows an analysis of findings of Sebi's probe. As many as 7,561 fake bills which were even detected in the company's internal audit reports and were furnished by one single executive.
Merely through these fake invoices, the company's revenue got over-stated by Rs 4,783 crore over a period of 5-6 years. The probe itself continued for almost six years and found that fictitious invoices were created to show fake debtors on the Satyam books to the tune of up to Rs 500 crore.
Weeks before the scam began to unravel with his famous statement that he was riding a tiger and did not know how to get off without being eaten. Raju had said in an interview that Satyam, the fourth-largest IT company, had a cash balance of Rs 4,000 crore and could leverage it further to raise another Rs 15,000-20,000 crore.
Ramalinga Raju was convicted with 10 other members on 9 April 2015. The 10 people found guilty in the case are: B Ramalinga Raju; his brother and Satyam's former managing director B Rama Raju; former chief financial officer Vadlamani Srinivas; former PwC auditors Subramani Gopalakrishnan and T Srinivas; Raju's another brother B Suryanarayana Raju; former employees G Ramakrishna, D Venkatpathi Raju and Ch Srisailam; and Satyam's former internal chief auditor V S Prabhakar Gupta. Ramalinga Raju and three others given six months jail term by SFIO on 8 December 2014.
What was the action taken and the result:
After the fraud came to light, the government had ordered an auction for sale of the company in the interest of investors and over 50,000 employees of Satyam Computers. It was acquired by Tech Mahindra, and was then renamed as Mahindra Satyam, and was eventually merged into Tech Mahindra. The Satyam saga eventually turned out to be a case of financial misstatements to the tune of approximately Rs 12,320 crore, as per Sebi's probe then.
2. Ketan Parekh and the Stock Market Scam of 2001
When did this happen: 2001
Background: He was a chartered accountant by professional training and had started managing his family's brokerage business. At the height of his success Ketan Parekh was friends with international celebrities like Kerry Packer and both of them had together started a venture capital with the intent of funding start-ups in India.
What happened: Involvement in the Indian stock market manipulation scam that occurred from late 1998 to 2001. Ketan Parekh was looking out for stocks which had a low market capitalization and low liquidity. He would then pump money into these shares and start fictitious trading within his own network of companies. The average person on the bourses may begin to believe that his stocks were rising and they too would start investing driving the prices even higher. Then, as the market took over Ketan Parekh would liquidate his holdings slowly, once again making less noise than his mentor Harshad Mehta would have done.How did this happen: Parekh purchased large stakes in less known small market capitalization companies, and jacked up their prices through circular trading with other traders, and collusion with these companies and large institutional investors. It later transpired that promoters and industrialists often gave Parekh funds to artificially rig up their share prices. Thus in just a few months, scrips of virtually unknown companies like Visualsoft rose from Rs 625 to Rs 8,448 per share and Sonata Software rose from Rs 90 to Rs 2,150. On 1 March 2001, just after the Indian Union Budget had been presented, the BSE Sensex crashed 176 points, prompting the then NDA government to set up an inquiry into the market reaction. Subsequently the RBI refused to clear pay orders (POs) that had been given by Parekh as collateral for loans to BOI (Bank of India), as they found them to be suspicious. Around the same time, a bear cartel of brokers in Mumbai opposed to Parekh tried to dump their shares of K-10 stocks. Panicking, Parekh sold off his entire ownership of the so called K-10 stocks that he had successfully jacked up over the past two years, especially those of two entities - GTB bank and MMCB bank. He carried out this large scale dump in the evening, after regular trading hours, from 5 pm to midnight at the Calcutta Stock Exchange. This resulted in a stock market crash the next day, resulting in large scale losses for large institutional investors, including insurance companies and mutual funds.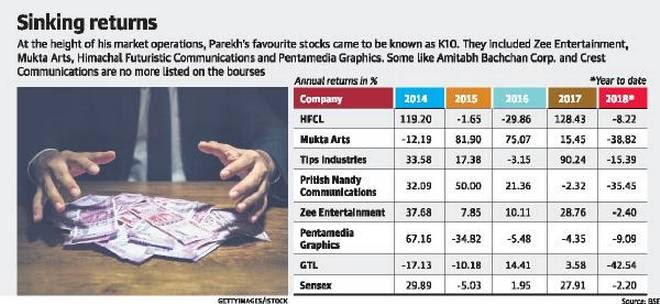 What was the action taken and result- Ketan Parekh was immediately arrested and tried in court. He has been prohibited from trading in the Bombay Stock Exchange for 15 years i.e. till 2017. Also, he had been sentenced to one year rigorous imprisonment for his economic crimes.
3. Harshad Mehta and the Stock Market scam
Who is he- Stock broker from Gujarat.
What happened: During the early 1990s he started facilitating transactions of ready forward deals among the Indian banks, acting as an intermediary. In this process, he used to raise funds from the banks and subsequently illegally invest the same in the stocks listed in the Bombay Stock Exchange to inflate the stock prices artificially. Mehta again raised a furore on 16 June 1993 when he made a public announcement that he had paid Rupees 1 Crore to the then Congress president and prime minister, Mr P.V. Narasimha Rao, as a donation to the party, for getting him off the case.
How did this happen: Mehta siphoned off around Rs 1,000 crore from the banking system to buy stocks on the Bombay Stock Exchange. As he pumped in money, the markets continued to achieve new highs. Retail investors took cues from what Mehta was buying and followed in the footsteps of the 'Big Bull'.
In the period between April 1991 and April 1992, the Sensex went into a frenzy and returned 274 percent, moving from 1,194 points to 4,467. That is the highest annual return for the index.
He also promised the banks higher rates of interest, while asking them to transfer the money into his personal account, under the guise of buying securities for them from other banks. At that time, a bank had to go through a broker to buy securities and forward bonds from other banks. Mehta used this money temporarily in his account to buy shares, thus hiking up demand of certain shares (of good established companies like ACC, Sterlite Industries and Videocon) dramatically, selling them off, passing on a part of the proceeds to the bank and keeping the rest for himself. This resulted in stocks like ACC (which was trading in 1991 for Rs. 200/share) to nearly Rs. 9000 in just 3 months.
The scam came to light when the State Bank of India reported a shortfall in government securities. That led to an investigation that later showed that Mehta had manipulated around Rs 3,500 crore in the system. On August 6, 1992, after the scam was exposed, the markets crashed by 72 percent leading to one of the biggest falls and a bearish phase that lasted for two years.
On 23 April 1992, journalist Sucheta Dalal exposed Mehta's illegal methods in a column in The Times of India. Mehta was dipping illegally into the banking system to finance his buying.
4. Nirav Modi, The Punjab National Bank Fraud
When this happen: Between 2011 and 2018
Who were the key people involved:
Nirav Modi
Who is Nirav Modi?
Born in India and raised in the Belgian city of Antwerp, the diamond capital of the world, Modi is a third-generation diamantaire. After dropping out of the University of Pennsylvania's Wharton School, he joined the family business of his maternal uncle Choksi at Gitanjali Gems.
Nirav Modi shot to prominence in the past decade when he became the first Indian to feature on the cover of a Christie's auction catalogue in 2010 for a Golconda diamond necklace that fetched $3.56 million at its auction in Hong Kong.
Synopsis:
Companies owned by diamond merchants Nirav Modi and Mehul Choksi are alleged to have swindled Punjab National Bank (PNB) of over Rs 11,000 crore ($1.77 billion). The scam was detected in the third week of January 2018, according to the PNB management which approached the Central Bureau of Investigation on Jan. 29. The agency had seized over 34,000 pieces of jewellery worth Rs 85 crore from Gitanjali Group, owned by Nirav Modi's uncle and jeweller Mehul Choksi, also wanted in this case.
How did this happen:
It began in 2011 with a much smaller amount with a single letter of undertaking (LoU)? worth around Rs800 crore. A letter of undertaking is a guarantee that a bank is obliged to repay the loan if the actual borrower—Nirav Modi in this case—fails.
Society of Worldwide Interbank Financial Telecommunication, or SWIFT, is a system to send instant messages. Once a foreign bank or a foreign branch of a bank gets the LoU via the SWIFT message, it disburses the loan to the borrower. When the credit due was not paid in time, more LoUs were issued on behalf of PNB to offset the payment?.
When the borrower did not repay the first Rs800 crore, the bank ought to have stepped in and booked a default by the group company. Instead, the two PNB employees, who were allegedly party to the fraud, issued more LoUs on behalf of PNB, asking other banks to give out fresh loans to the firms. This continued until two weeks before the whole operation came to light after some of Modi's employees visited the bank on Jan. 05. The management was caught napping and the overdue loans exceeded Rs11,000 crore.
PNB sources say the bank isn't fully integrated on a ??Core Banking System (CBS) which could have immediately detected the discrepancy.
According to sources, PNB's integration to a CBS was initiated in 2002. The technology took a decade to become developed. It should have been upgraded by 2012, but wasn't.
The Fallout
As it investigated the case internally, before the public revelation, PNB found two junior branch officials had issued LoUs to foreign branches of Indian lenders, on behalf of firms associated with Nirav Modi and his uncle, Mehul Choksi. These bank guarantees were essentially to help these firms raise buyer's credit from these overseas banks to pay for their imports.
Following the PNB fraud case, jewellers are facing challenges in availing funds from banks. The argument from banks was that every jeweller is 'misusing' the funds, but not everybody is doing that, he said. To another question, he said the gems and jewellery industry was valued at Rs two lakh crore with annual growth of 7-10 per cent. On January 31 and February 15, 2018 , the CBI and the ED registered separate cases against Modi, his companies, and diamond jeweller Mehul Choksi in connection with the multi-crore PNB fraud.
The CBI has so far arrested a total of 19 accused, including Gokulnath Shetty, former DGM, PNB. A Special PMLA court has already issued non-bailable arrest warrants against Modi and his maternal uncle Choksi who had left the country before the alleged scam came to light.
5. Saradha Scam
When this happen: Between 2003 and 2011
Who were the key people involved:
Sudipto Sen (Businessman)
Synopsis:
The Saradha Group financial scam was a major financial scam and alleged political upheaval caused by the collapse of a Ponzi scheme run by Saradha Group, a consortium of over 200 private companies that was believed to be running collective investment schemes popularly but incorrectly referred to as chit funds ]in Eastern India.
How did this happen
In the early 2000s, businessman Sudipto Sen set up the Saradha Group, and launched what the securities market regulator Securities and Exchange Board of India (SEBI) later categorised as a collective investment scheme. The Saradha Group used a consortium of companies to tap small investors, promising them very high returns. Like in a classic Ponzi scheme, money was collected through a wide network of agents, who were paid commissions of over 25%.
In a few years, Saradha's raised about Rs 2,500 crore. It built its brand through filmstar endorsements, investments in popular football clubs, ownership of multiple media outlets, and sponsorship of cultural events such as Durga Pujas. The scheme expanded to Odisha, Assam, and Tripura, and the number of investors reached close to 17 lakh.
By 2009, politicians in West Bengal had begun to discuss Saradha's alleged fraudulent ways. In 2012, SEBI, which was already watching the Group, asked it to stop accepting money from investors until it got the regulator's permission. Alarm bells started to ring in January 2013, when for the first time, the Group's cash inflow was lower than its outflow — another classic event in a Ponzi scheme.
By April 2013, the scheme had collapsed, and investors and agents lodged hundreds of complaints with the Bidhannagar Police. Sudipto Sen fled West Bengal after writing an 18-page letter, in which he accused several politicians of arm-twisting him into making poor investments that led the company to collapse. An FIR was registered, and Sen was arrested along with his associate Debjani Mukherjee in Sonmarg on April 20, 2013.
Findings
Investigations found the company had laundered investments in locations such as Dubai, South Africa and Singapore. Mamata Banerjee's government set up a Special Investigation Team (SIT) to probe the case after clubbing all the FIRs. Around the same time, the CBI began investigations in Assam after the state government handed over the probe to it. Based on state police FIRs, the Enforcement Directorate registered cases of alleged money laundering, and arrested several people.
According to CBI, the SIT had not handed over a diary of Sudipta Sen that has details of payments made to prominent people, apart from other evidence. "Our multiple requests to hand over all documents seized by the SIT have fallen on deaf ears. They have the diary, interrogation reports of several accused — some of them recorded on video — some pen drives, and material recovered from a bank locker owned by Sen
The fallout
In May 2014, the Supreme Court transferred all cases to the CBI, given the inter-state nature of the alleged scam. The SIT, which had by now conducted a year-long probe, had to hand over to the CBI all case papers, evidence, and the accused it had arrested.
The CBI questioned over a dozen TMC MLAs and MPs, and arrested Srinjoy Bose, Madan Mitra and Kunal Ghosh. Among those questioned were then TMC vice president and former West Bengal DGP Rajat Majumdar, Trinamool Youth Congress chief Shankudeb Panda, and MPs Satabdi Roy and Tapas Paul. Former Assam DGP Shankar Barua committed suicide after CBI questioned him and searched his house.
What do you think was the biggest Indian financial scam of all time?