The process for the CA Final Registration is online through the official ICAI portal. You can access the Registration form in the centralized self-service Student Service Portal of the website (https://www.icai.org/post/students-services).
For the May and November schedules of the CA Final examination, ICAI accepts registration till the 1st day of January and July of the same calendar year, respectively. The entire process from creating an account to filling the form, paying the fees, and submitting documents is done online.
The registration form requires you to fill up your personal and eligibility details including CA IPCC/ Intermediate results. Let us see how to register for CA final new course.
Step 1: Open the Students tab on the ICAI official website, click 'Examination' and then 'Examination Portal'.
Step 3: Your CA final online registration form appears on the screen. Select CA Final in the examination tab and enter your CA program registration number. Fill in the rest of the mandatory personal details like date of birth, email ID, mobile phone number. Check the declaration box and click the 'Register' button to proceed to the next step of the process.
If you find that your registration number or date of birth does not match with the ICAI system data, you can register as a Provisional candidate and report the issue to the Helpline.
Step 4: A screen appears with your registration number and password details confirming the completion of the first level of the process. Click on the 'Complete your Profile' tab to proceed next.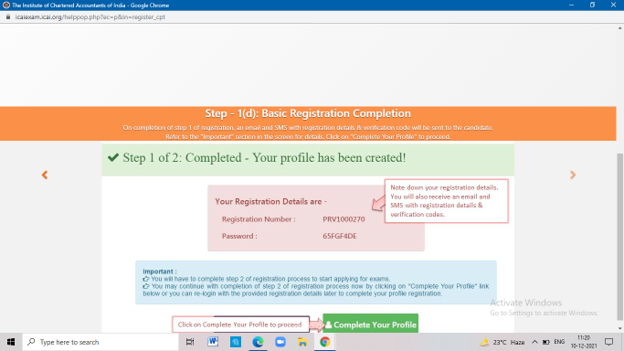 Step 5: Enter correct personal details as specified to complete your profile, save and proceed.
Step 6: A screen appears confirming the completion of your CA Final registration online.
Step 7: The next screen that appears is your Student Dashboard. Verify your email ID and mobile phone number if not verified yet. After the verification process, you can check the status of your application through this dashboard.
Step 8: Proceed to upload all scanned copies of self-attested documents specified by ICAI and click save.
Step 9: Next appears is the Payment portal through which you can pay your fees for CA Final Registration.
Step 10: After the payment is processed successfully, you will receive a confirmation email to your registered email ID. Please take a print of the email for your records.
Points to note:
Make sure to clear the device cache before starting the online registration process.

Do not attempt to fill in more than one online form simultaneously on the same device.

Avoid attempting the registration process from a mobile device.
In case of technical or other issues, while registering for the CA Final, you can email the ICAI helpdesk at:
onlineexamforms@icai.in (for technical issues in online registration)
final_examhelpline@icai.in (specifically for CA Final registration)